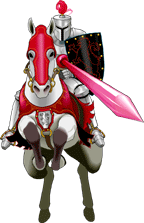 You have a software or web development project that needs to get done. Your own staff is swamped and, in this economy, you're not sure it's a great time to be adding full time employees and benefits, to be purchasing new development machines, or incurring additional new overhead. Still, you don't want to sacrifice quality, and the project needs to be done right and on schedule.
Enter the Paladin. At Paladin Software we specialize in being the contract help you need to succeed. Based in New Hampshire, USA, we can claim satisfied clients throught the United States and the world. Expert in technical communication, we work with you to specify the task, and then perform the work with quality that is guaranteed to meet or exceed your standards.
Please peruse our site to learn more about what Paladin can do for you. We're glad you found us. This could be the beginning of a great business relationship.

We're proud to announce that our latest iOS development project, Fat 2 Fit - Tools for Lifestyle Change, is now available for free in the Apple App Store. We're especially lucky to have had the opportunity to develop this application for the great podcast site Fat 2 Fit Radio.